News & Events
Fluid Transfer delivers on time for Euro 2012 Football Championships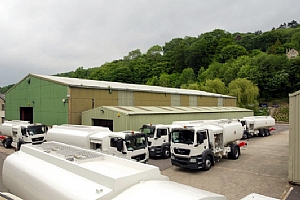 Fluid Transfer has recently supplied ten aviation refueller trucks for Donetsk and Lviv Airports in Ukraine.
All ten of the trucks were collected from Fluid Transfer's factory in Nailsworth, Gloucestershire and were driven direct to Donetsk and Lviv Airports just in time for the start of the European Championships.
The refuellers were immediately used at Donetsk Airport to refuel the Aircrafts transporting England's dedicated and loyal fans.
Donetsk was the location for two of England's Euro 2012 Group D games. The first game of the group was staged on the 11th June 2012 between England and France and the third group game was also staged in Donetsk on the 19th June 2012 between England and the co-hosts Ukraine.
These trucks were designed and manufactured by Fluid Transfer International to replace the current 40 year old trucks that were out dated and in need of replacing. This is an ongoing contract that is expected to continue into the summer of 2013. Fluid Transfer are proud to continue supporting many projects just like this now and in the future.
Due to another dismal display for England at another penalty shootout, Fluid Transfer are now seeking an opportunity to supply penalty takers to the England squad.
Fluid Transfer International
Nailsworth Mills Estate
Avening Road
Nailsworth
Gloucestershire
GL6 0BS

Company Number 3658293
Registered in England

Tel: + 44 (0) 1453 833 381 - Fax: + 44(0) 1453 833 529


Sales & Enquiries: sales@fluid-transfer.co.uk
Product Support Team: support@fluid-transfer.co.uk

Subscribe to our Mailing List: